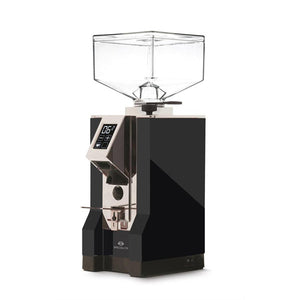 The Eureka Mignon Specialita 55 Electronic Coffee Grinder has superb functionality and a sleek design. For professional and discerning amateur baristas alike you will be producing café quality coffee in no time.
The Mignon Specialita 55 features large 55mm burrs, stepless micrometrical grinding adjustability to ensure the ideal grind, whatever coffee blend you are brewing. It also has a programmable touch screen to move from single to double coffee doses seamlessly.
The fork filter holder is adjustable in two positions, ensuring easy, spill-free coffee delivery. In line with all of Eureka's designs, the Mignon is designed for straightforward use and easy cleaning and maintenance.
Eureka Coffee Grinder Mignon Specifications
Hopper capacity: 300 g Made of clear Kostil Food approved.

Grinder blades: 55mm flat steel

Grinder control: micrometric rapid regulator.

Body material: Black panels.

Burr material: Harden Steel flat burrs.

Dimensions (W x D x H hopper included): 120mm x 180 mm x 350 mm.

Weight: 5.6 kg.

Bean Storage: 300 gr.

Hourly Output: 5-6 kg/h.

Power: 240/50 Hz 025 Kw Single phase with overload thermic protection.
Free shipping to Perth, Melbourne, Adelaide, Sydney, Hobart, Brisbane, Darwin and remote Australia!